TORG Eternity Core Rules
English, German and French version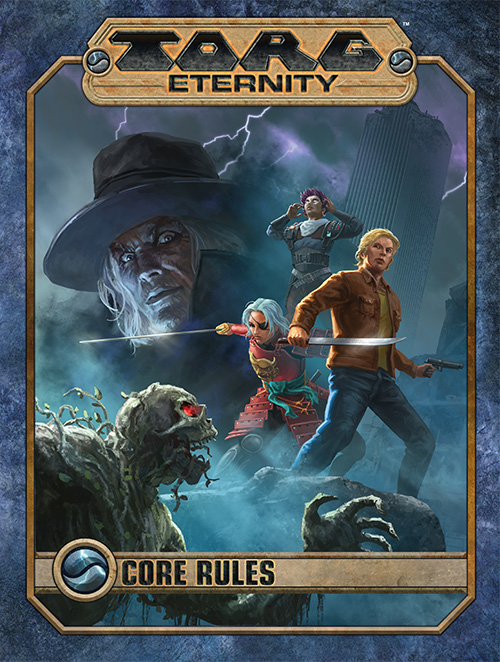 THE STORM HAS A NAME... The "High Lords", cruel tyrants from other realities have joined together to conquer Earth and steal its living energy: its Possibilities!
Where they invade the world changes, forming realms governed by the rules of alien realities. But Earth is not defenseless against this onslaught. Some heroes absorb the raw Possibility Energy the High Lords covet and become "Storm Knights" beings who can bend reality to their will. They use magic, technology, miracles, and even super powers against the High Lords and their endless minions.
The Delphi Council needs you, Storm Knight, to protect our reality and fight back against the High Lords!
Experience the RPG classic system in its most modern form, making playing the game even easier you and your players.
Torg Eternity Core Rules Features
All of the rules from the core rulebook, organized around a home page for quick reference by players and GMs alike
518 item/entities containing every perk, armor, shield, weapon, item, vehicle, eternity shard, spell, miracle, and psionic power in the core rules
All items/entities are ready for drag and drop onto character sheets, instantly incorporating them into play
The original Torg Eternity soundtrack
All 31 threats from the Core Rules, complete with avatars and tokens, ready to drag and drop into play
All 26 threat cards from the core release, in ready to display journal entries
The Torg Eternity GM screen, which can be displayed and hidden with the click of a button
Effects have been added to armor and shields, and will automatically adjust armor, toughness, and defense stats
Day One and Day 90 maps
A selection of illustrations in journal format and ready as handouts
A magic items table
And Don't Forget...
Every card in the core Drama Deck is included with the free base system, and is easily installed and ready for play
All 16 core archetypes are already included in the free base system and ready for play
Requires the TORG game system available for free at: https://foundryvtt.com/packages/torgeternity
Purchase the Torg Eternity Core Rules module from Ulisses Spiele.
Deutsch
DER STURM HAT EINEN NAMEN... Die "High Lords", grausame Tyrannen aus anderen Realitäten, haben sich zusammengetan, um die Erde zu erobern und ihre Lebenskraft zu berauben: Der Möglichkeitsenergie!
Das Delphi-Konzil braucht dich, Storm Knight, um unsere Realität zu beschützen und die High Lords zu vertreiben!
Erlebe das klassische Rollenspielsystem in seiner modernsten Form und mach das Spiel für dich und deine Spieler noch einfacher!
Das Torg Eternity Grundregelwerk enthält
Alle Regeln aus dem Grundregelwerk auf einer Startseite zum schnellen Nachschlagen für Spieler und Spielleiter angeordnet
518 Gegenstände mit allen Werten und Informationen
Alle Gegenstände können per Drag-and-Drop auf den Charakterbogen gezogen und sofort ins Spiel integriert werden
Der Original-Soundtrack von Torg Eternity
Alle 31 Bedrohungen aus dem Grundregelwerk, komplett mit Avataren und Tokens
Alle 26 Bedrohungskarten aus dem Grundregelwerk in anzeigbaren Journaleinträgen
Der Torg Eternity GM-Bildschirm, der mit einem Mausklick ein- und ausgeblendet werden kann
Effekte für Rüstung und Schilden hinzugefügt mit automatischer Anpassung aller Verteidigungswert
Karten für Tag Eins und Tag 90
Eine Auswahl an Illustrationen im Journalformat, die als Handouts zur Verfügung stehen
Eine Tabelle mit magischen Gegenständen
Und nicht zu vergessen: Jede Karte des Kern-Drama-Decks ist im kostenlosen Basissystem enthalten und kann leicht installiert werden und ist sofort spielbereit!
Kaufe das Torg Eternity Grundregelwerk Modul auf Ulisses Spiele.
Erfordert das TORG-Spielsystem, das kostenlos erhältlich unter: https://foundryvtt.com/packages/torgeternity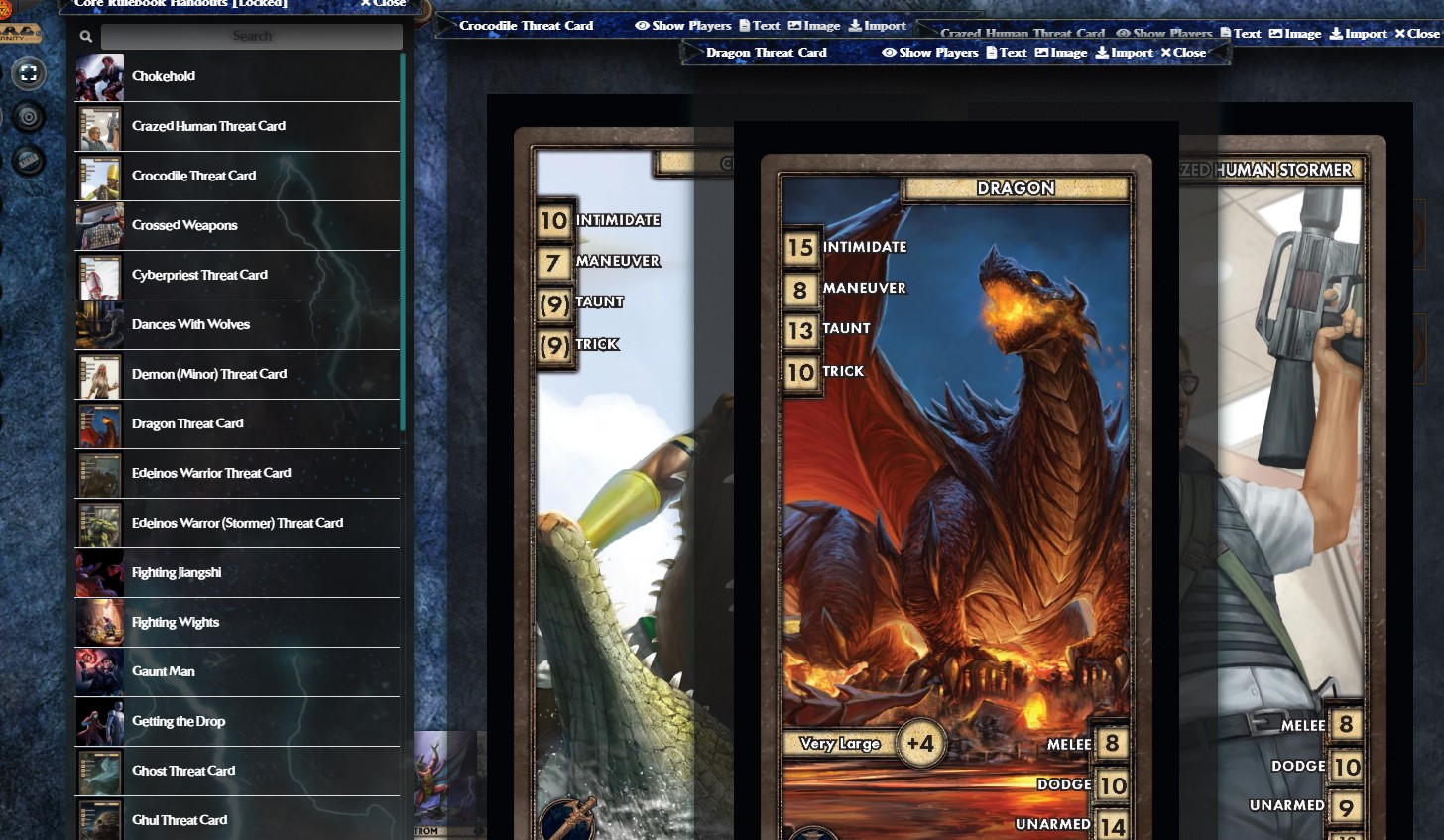 French (upcoming)
La Tempête a un nom...
Les « Seigneurs de Réalité », de cruels tyrans venus d'autres réalités se sont unis pour conquérir la Terre et voler son énergie vitale : ses Possibilités ! Partout où ils apparaissent, le monde change, constituant des royaumes soumis aux règles de réalités étrangères.
Mais la Terre n'est pas démunie face à cette offensive. Certains héros absorbent l'énergie brute des Possibilités que convoitent les Seigneurs de Réalité et deviennent des « Chevaliers des Tempêtes » – des êtres capables de plier la réalité à leur volonté. Ils utilisent la magie, la technologie, les miracles et même des super pouvoirs pour lutter contre les Seigneurs de Réalité et leurs innombrables séides.
Le Conseil de Delphes a besoin de vous, Chevalier des Tempêtes, pour protéger notre réalité et pour riposter contre les Seigneurs de Réalité !
Le Livre de base Torg Eternity pour Foundry VTT contient :
Toutes les règles du livre de base, organisées autour d'une page d'accueil pour que les joueurs et le MJ puissent s'y référer rapidement
518 items comprenant tous les atouts, armures, boucliers, armes, objets, véhicules, sorts, miracles et pouvoirs psioniques du livre de base
Tous les items peuvent être "glissés/déposés" sur les fiches de personnages, leurs caractéristiques sont alors prises en compte automatiquement
La bande orginale sonore de torg Eternity
Les 31 menaces du livres de base, avec avatars et tokens, prêts à être "glissés/déposés" en jeu
26 cartes menaces, prêts à être lues et partagés comme entrées de journal
L'écran du MJ, qui peut être affiché et caché d'un seul clic
Des effets ont été ajoutés aux armures et boucliers, et ajustent ainsi automatiquement les caractéristiques des personnages
Les cartes Jour 1 et Jour 90
Une sélection d'illustrations au format journal prêts comme aides de jeu
Une table d'objets magiques
Et n'oubliez pas...
Chaque carte du Paquet d'action de base est incluse dans le system de base gratuit
Les 16 archétypes de base sont déjà inclus dans le system de base gratuit et sont prêts à jouer
Le scénario Au-delà du fleuve est également disponible en français et gratuitement ici
Foundry VTT vous permet de jouer à des jeux de rôle sur table avec d'autres joueurs via une application auto-hébergée stand alone riche en fonctionnalités, vos joueurs n'ayant qu'à se connecter directement depuis leur navigateur Internet.
La licence pour utiliser Foundry VTT n'est PAS incluse dans ce produit !
Jouer à Torg Eternity sur Foundry VTT nécessite l'installation du system gratuit pour Torg Eternity disponible sur https://foundryvtt.com/packages/torgeternity
Acheter le module Torg Eternity - Règles de base sur le site de Black Book Éditions