Package Description
TORG Eternity Core Rules
German and English version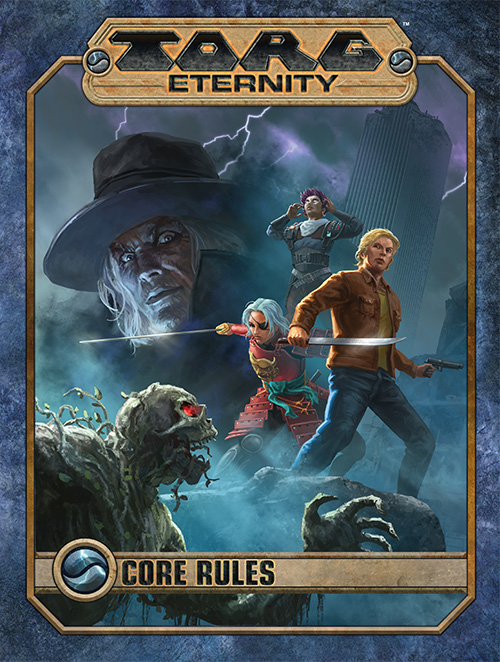 THE STORM HAS A NAME... The "High Lords", cruel tyrants from other realities have joined together to conquer Earth and steal its living energy: its Possibilities!
Where they invade the world changes, forming realms governed by the rules of alien realities. But Earth is not defenseless against this onslaught. Some heroes absorb the raw Possibility Energy the High Lords covet and become "Storm Knights" beings who can bend reality to their will. They use magic, technology, miracles, and even super powers against the High Lords and their endless minions.
The Delphi Council needs you, Storm Knight, to protect our reality and fight back against the High Lords!
Experience the RPG classic system in its most modern form, making playing the game even easier you and your players.
Torg Eternity Core Rules Features
All of the rules from the core rulebook, organized around a home page for quick reference by players and GMs alike
518 item/entities containing every perk, armor, shield, weapon, item, vehicle, eternity shard, spell, miracle, and psionic power in the core rules
All items/entities are ready for drag and drop onto character sheets, instantly incorporating them into play
The original Torg Eternity soundtrack
All 31 threats from the Core Rules, complete with avatars and tokens, ready to drag and drop into play
All 26 threat cards from the core release, in ready to display journal entries
The Torg Eternity GM screen, which can be displayed and hidden with the click of a button
Effects have been added to armor and shields, and will automatically adjust armor, toughness, and defense stats
Day One and Day 90 maps
A selection of illustrations in journal format and ready as handouts
A magic items table
And Don't Forget...
Every card in the core Drama Deck is included with the free base system, and is easily installed and ready for play
All 16 core archetypes are already included in the free base system and ready for play
Requires the TORG game system available for free at: https://foundryvtt.com/packages/torgeternity
Purchase the Torg Eternity Core Rules module from Ulisses Spiele.
Deutsch
DER STURM HAT EINEN NAMEN... Die "High Lords", grausame Tyrannen aus anderen Realitäten, haben sich zusammengetan, um die Erde zu erobern und ihre Lebenskraft zu berauben: Der Möglichkeitsenergie!
Das Delphi-Konzil braucht dich, Storm Knight, um unsere Realität zu beschützen und die High Lords zu vertreiben!
Erlebe das klassische Rollenspielsystem in seiner modernsten Form und mach das Spiel für dich und deine Spieler noch einfacher!
Das Torg Eternity Grundregelwerk enthält
Alle Regeln aus dem Grundregelwerk auf einer Startseite zum schnellen Nachschlagen für Spieler und Spielleiter angeordnet
518 Gegenstände mit allen Werten und Informationen
Alle Gegenstände können per Drag-and-Drop auf den Charakterbogen gezogen und sofort ins Spiel integriert werden
Der Original-Soundtrack von Torg Eternity
Alle 31 Bedrohungen aus dem Grundregelwerk, komplett mit Avataren und Tokens
Alle 26 Bedrohungskarten aus dem Grundregelwerk in anzeigbaren Journaleinträgen
Der Torg Eternity GM-Bildschirm, der mit einem Mausklick ein- und ausgeblendet werden kann
Effekte für Rüstung und Schilden hinzugefügt mit automatischer Anpassung aller Verteidigungswert
Karten für Tag Eins und Tag 90
Eine Auswahl an Illustrationen im Journalformat, die als Handouts zur Verfügung stehen
Eine Tabelle mit magischen Gegenständen
Und nicht zu vergessen: Jede Karte des Kern-Drama-Decks ist im kostenlosen Basissystem enthalten und kann leicht installiert werden und ist sofort spielbereit!
Kaufe das Torg Eternity Grundregelwerk Modul auf Ulisses Spiele.
Erfordert das TORG-Spielsystem, das kostenlos erhältlich unter: https://foundryvtt.com/packages/torgeternity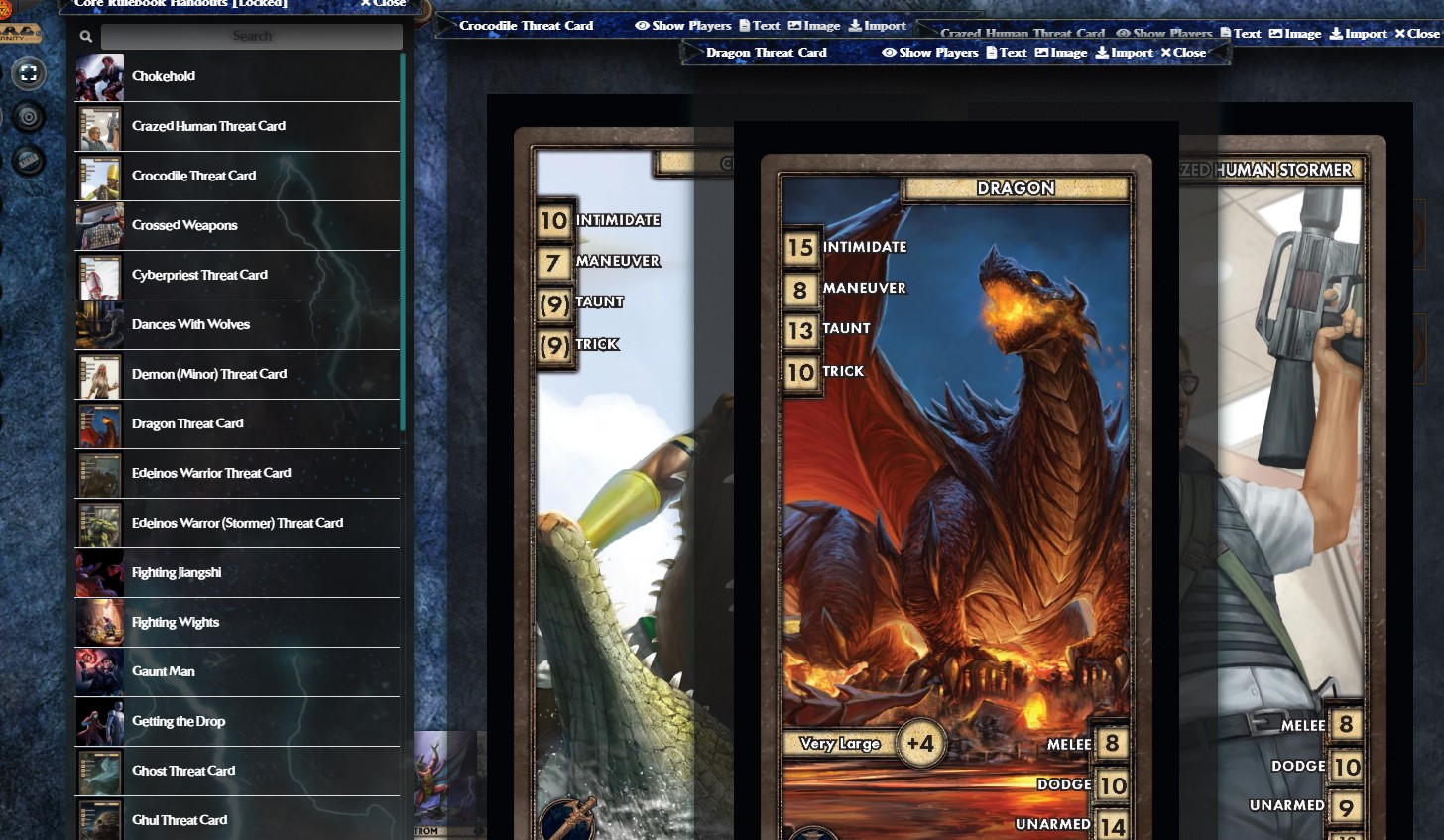 Required Game Systems
Torg Eternity

Latest Version: Version 2.4.4

Last Updated 2 months, 2 weeks ago
Tagged Categories
Available Versions