Package Description
Your kingdom is on the brink of war. A tournament has been arranged to celebrate your monarch's birthday, and envoys from the enemy kingdom will be attending the festivities. As if the situation isn't stressful enough, strange lights are seen in the sky, and a terrifying alien invasion begins.
Gather your fellow knights to battle with little green men and fire trebuchets on acid-filled insect creatures. Can the rival kingdoms put aside their problems and work together, or will one side use the chaos of the situation to their own advantage? Find out in this Fate World of Adventure by Richard Bellingham.
Knights of Invasion.
Follow the code.
Protect your liege.
The Fate Adventures & Worlds line provides compact, rich, affordable, gorgeous settings with a ready-to-go adventure for GMs in a pinch. Buy one this afternoon, be ready to run this evening.
Module Features
A setup tool that will fully deploy the content of this module into a world of your choice. This is the way we recommend you use this module, and it works best if you start with a fresh new world. On first load, click the 'Knights of Invasion' thumbnail to commence the setup process, or use the Setup macro listed below.
Five GM characters and associated tokens,. If you set this world up using our tool you'll find them in an Actor folder called "Knights of Invasion GM Characters". Otherwise, they're n the Knights of Invasion Characters compendium.
Six sample player characters and associated tokens. Found in the "Knights of Invasion Player Characters and Retainers" folder or the Characters compendium.
Four sample siege weapons and associated tokens. Found in the "Knights of Invasion Siege Weapons" folder or the Characters compendium.
Five sample extras you can use to get started on armour and horses for your characters.
Predefined default character frameworks allowing you to instantly create knights, good retainers, fair retainers, siege weapons, and aliens with the correct tracks, aspects, and skills.
62 tokens for use as player or GM characters, stored in /art/tokens/ and ready for use via the Foundry file browser.
Eight linked handouts installed in this world's journal folder or accessed from the Knights of Invasion Journal compendium. They provide the entire contents* of Knights of Invasion, a Fate World first released by Evil Hat Productions as a PDF Contents.
One start scene for basic orientation and player character tokens.
One Playmat scene which features some handy rules references and an easily changeable background.
One map scene displaying the continent of Jorl, where the kingdoms of Regen and Stroming can be found.
---
Screenshots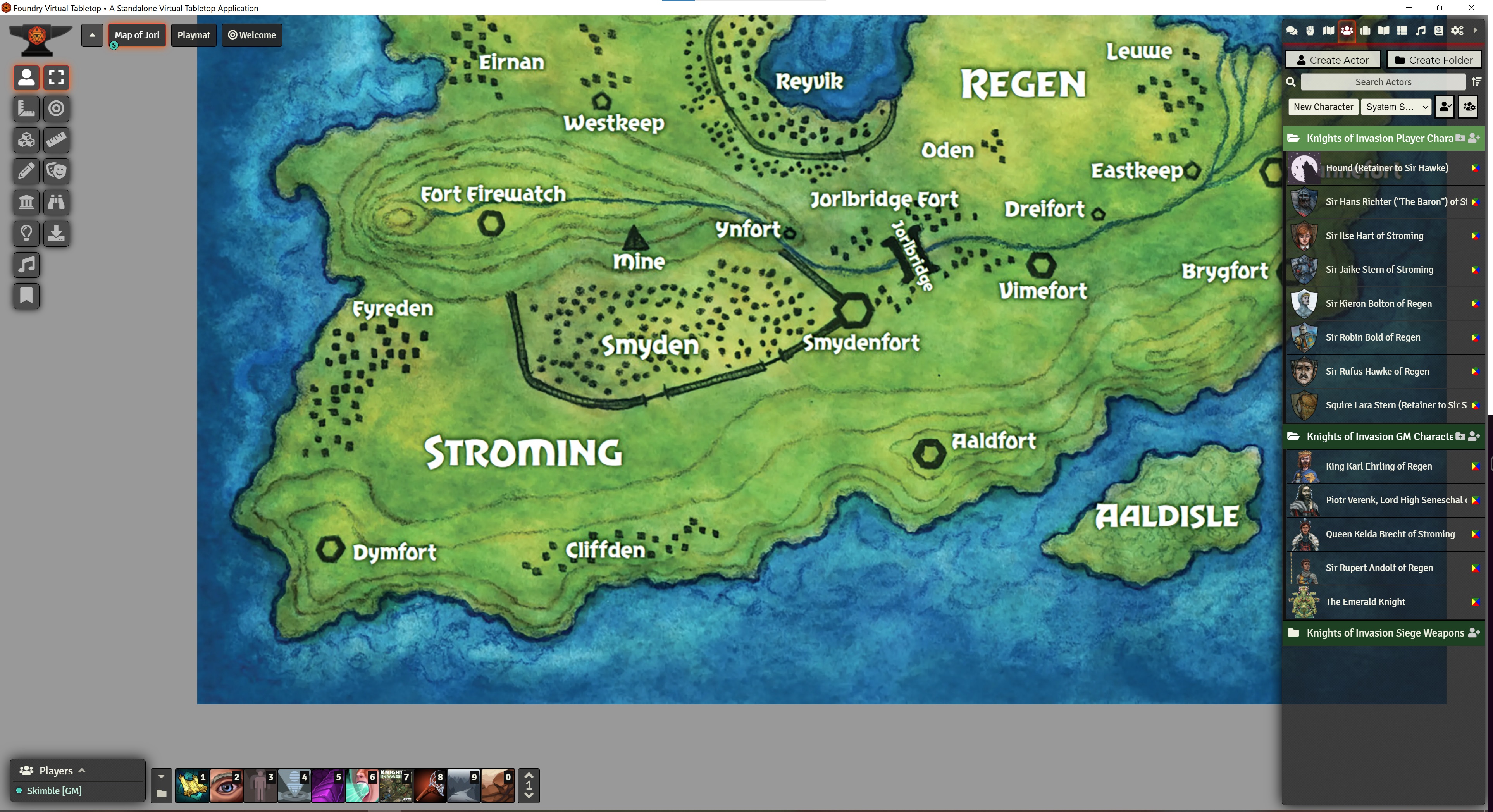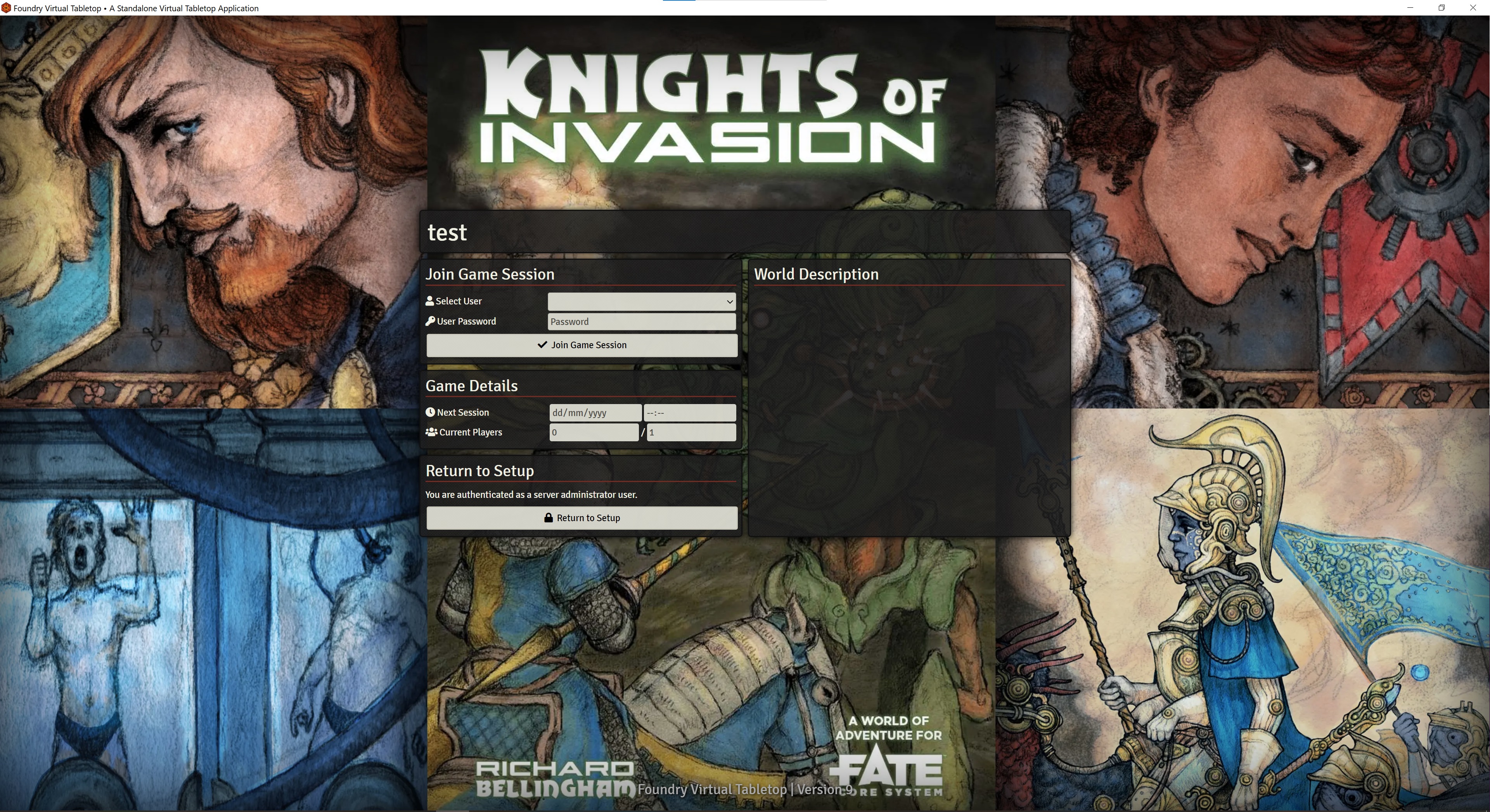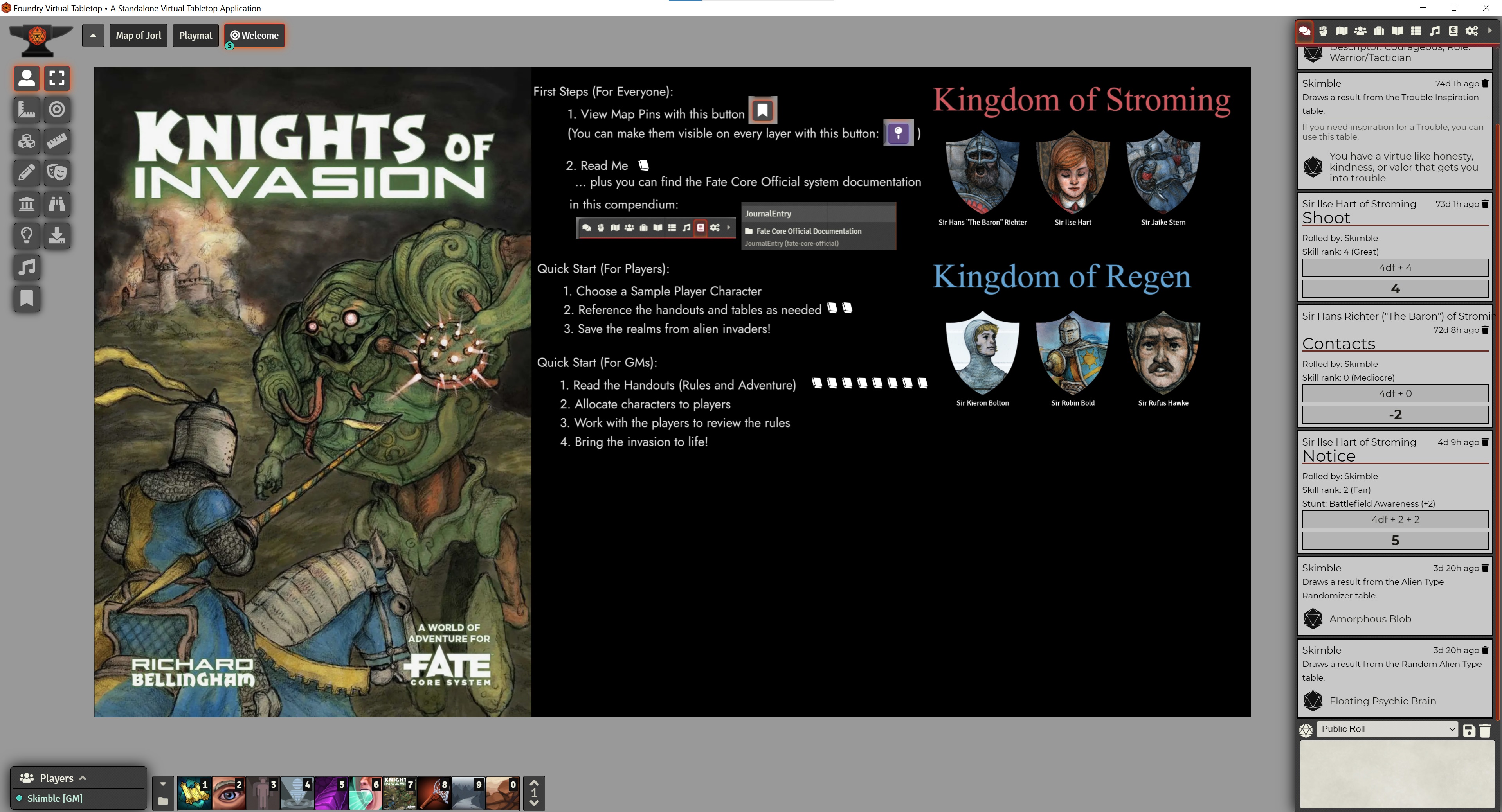 Content Provider: Evil Hat
Author: Evil Hat
Project Source: Project URL
Latest Version: Version 1.0.0
Last Updated 9 months, 1 week ago
Required Game Systems
Fate Core Official

Latest Version: Version 4.3.27

Last Updated 9 months, 1 week ago
Available Versions
Version 1.0.0

Compatible Foundry Versions: 0.8.4 - 9.220
Installation Link: Manifest URL