Package Description
Create a slideshow of fantastical visuals for your players. Click on images in journal entries to make them appear on the canvas for theater-of-the-mind displays, or in pop-out windows over scene maps to add visuals to your narration.
---
HOW-TO
Please check out this video for a full tutorial:
https://youtu.be/t4NX55vs9gU
And the GitHub repository for more information:
https://github.com/EvanesceExotica/Journal-To-Canvas-Slideshow
---
What does it do?
With this module, you can create different types of Displays to show images to your players. When you click on images (or videos) within journal entries, the tiles in the scenes (or background-images in the windows) will update to show the image you clicked on. This allows you to seamlessly show your players multiple images in succession, sort of like a slideshow, without having to take your eyes off of your notes or navigate away from your journal entry.
The different types of displays can be switched between in the settings, and are as follows:
1. Dedicated Display Scene
A Display Scene is sort of like a 'theater' or 'presentation' scene. It will contain a central tile that is automatically scaled to the canvas. It is probably best tailored to theater-of-the-mind style play with little use of other maps, and can be deocrated as you see fit.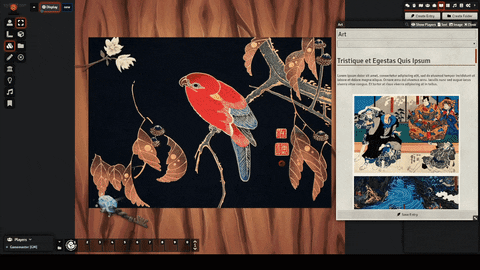 2. Bounding Tile + Display Tile in ANY scene
The bounding tile feature was contributed by @Occidio on GitHub. I added some extra functionality to allow bounding tiles, along with new Display Tiles, to be used in any scene.
With the combination of a Bounding tile and a Display Tile, you can have your journal images display in any scene. Use the bounding tile to determine the 'bounds' of an area that you would like your display tile to be contained within.
An example of good use for this feature is on landing pages, where you can seamlessly change a decorative image to match the mood of a session or adventure arc.
Note: A bounding tile can ALSO be used in the Display Scene if you'd like to change the way the image scales in relation to the canvas.
3. Window Displays
In case you don't want to navigate away from a battlemap, you can also have the images you want to show your players pop out in a window over any scene.
An example would be if your players are in the middle of a battle and you'd like to show them a full-scale depiction of an enemy. Or if they're travelling along a world map and you want to display an image of the landscape they're journeying through, or a landmark their characters would see up ahead.
There are now two different types of "window" displays (one type implemented by @MaximeTKT on GitHub) -- see video linked below for more details.
---
If you would like, you can also share your images on all types of displays via copy-pasting a URL (thanks to an implementation by @p4535992 on GitHub )
---
For instructions and a full tutorial of new features, please check out this video:
https://youtu.be/t4NX55vs9gU
and the module's GitHub repository for more details:
https://github.com/EvanesceExotica/Journal-To-Canvas-Slideshow
---
Changelog
v0.1.7 - 2021-08-26
CHANGED
Integrated features from pull requests, such as item images now being able to be clicked on and displayed. (Thanks, @DarKDinDoN !)
Added setting to hide or change how "Toggle Display Location" button in journal header displays.
v0.1.6 - 2021-06-10
Updated to work with Foundry v8.6.
(Note: Older versions of the files for Foundry v7 can be found on the module's GitHub in the releases section.)
v0.1.5 - 2021-05-23

**ADDED

**Major**
NEW: Ability to *right click* on actor sheet character images to display them the same as journal images.
NEW: Ability to display Journal-to-Canvas-Slideshow tools within a dialog rather than as tile control tools.
See the settings for **Use Actor Sheet Images** and **Hide Tile Buttons** in the updated module settings below.
Default Tile Control Tools
The default tile control tools with the Hide Tile Buttons setting disabled.
A new button is there called "Switch Display Location" that will display a dialog that allows you to switch display locations without needing to go into the module's settings.
Note: Journal entries now have a button in the header that allows you to switch the display location as well.
Note: You can switch away from the tile control tools and then back again to "refresh" if you enable or disable the Hide Tile Buttons setting.
---
Tile Control Tools with Hide Tile Buttons Setting Turned On
With the Hide Tile Buttons setting enabled, all Journal-to-Canvas-Slideshow buttons will not be displayed except for the "Clear Display" button, and a new button that says "Show Slideshow Config".
To show the other functions, click on the button in the tile control tools that says "Show Slideshow Config".
The following dialog will appear with buttons with all the functionality, such as creating Display and Bounding Tiles, Setting a URL image, and switching between display locations.
---
**CHANGED**:
* Many features now work with VIEWED scene rather than ACTIVE scene, such as displaying an image within a bounding tile.
v0.1.4 - 2021-03-20
ADDED
Major:
NEW: Bounding Tiles implemented by @Occidio
NEW: Display Tiles that along with Bounding Tiles can be added to any scene.
NEW: Display images via copy-pasting URL feature implemented by @p4535992
NEW: Display in Window feature alternative implemented by @DarKDinDoN
NEW: Extra settings to accomodate the above new features -- please check the settings menu and reselect your prefered settings.
CHANGES
Major:
Special "Display Tiles" now created via button in Tile controls menu. Flagged by script, so no longer have to be very first tile in scene.
Warning: Please replace regular tile in pre-made Display Scenes with new Display Tile, else the script will not detect them.
v0.1.3 - 2021-01-25
Added:
Major:
NEW: Added option to display journal images in a window rather than display scene
NEW: Added module settings
v0.1.2- 2021-01-03
Added
Major:
Fixed an incompatability issue with the Call of Cthulhu 7e (CoC7) system.
v0.1.1 - 2020-12-28
Added
Major:
Added "Clear Display" button in Tiles scene control buttons. Will set 'slideshow' tile to a transparent image.
Minor:
More visual effects when hovering over and clicking images in journal, for more user feedback
Changed cursor to pointer on hover of journal images
Changes
Clicking on image in journal no longer activates the 'Display' scene if a different scene is active. Plan to add functionality later to toggle this behavior.
(Red arrow pointing at new 'Clear Display' button')
Please visit my Github repository for more details: https://github.com/EvanesceExotica/Journal-To-Canvas-Slideshow
Author: Eva
Project Source: Project URL
Latest Version: Version 0.1.7
Last Updated 3 months ago
Tagged Categories
Available Versions