The Fate Adventures & Worlds line provides compact, rich, affordable, gorgeous settings with a ready-to-go adventure for GMs in a pinch. Buy one this afternoon, be ready to run this evening.
Hop into the Weird World News van, Griffy! Let's hunt some monsters!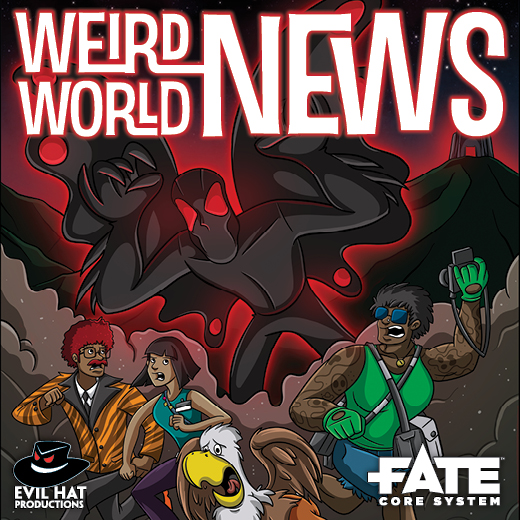 Check out this groovy game based off your favorite cartoons from the 1970s. Players control intrepid members of an Extreme News Team on the hunt for UFOs, ghosts, mothmen, and other cryptids.
But not all is as it seems- for every authentic cryptid uncovered, there's another half-dozen frauds: executors disguised as bigfoot trying to bilk the rightful heirs out of an inheritance; restauranteurs in mummy bandages trying to stamp out competition; or a ruthless robber-baron masked as a vampire trying to buy land cheap.
Unveil the frauds and stop the monsters in Weird World News, the latest Fate World of Adventure from André la Roche.
Weird World News requires Fate Core to play. This supplement includes:
A character creation system based on archetypes usually seen in '70s cartoons
A new character stat -Aptitudes- which are more pointed than Approaches and keep the game focused on classic WWN hijinks
An episode creation system, including random tables
Rules for GM-less play options, including two-player games
Sample characters and monsters to facilitate quick play options
A sample adventure: Moon for the Mothman
Available now on itch.io
---
Screenshots
---