Salamanders preparing an ambush for unsuspecting travelers. Drow outpost attacked by monsters. An aboleth plotting in the lake deep underground. The creatures of the Underearth lurk in the corridors to drag heroes into the darkness.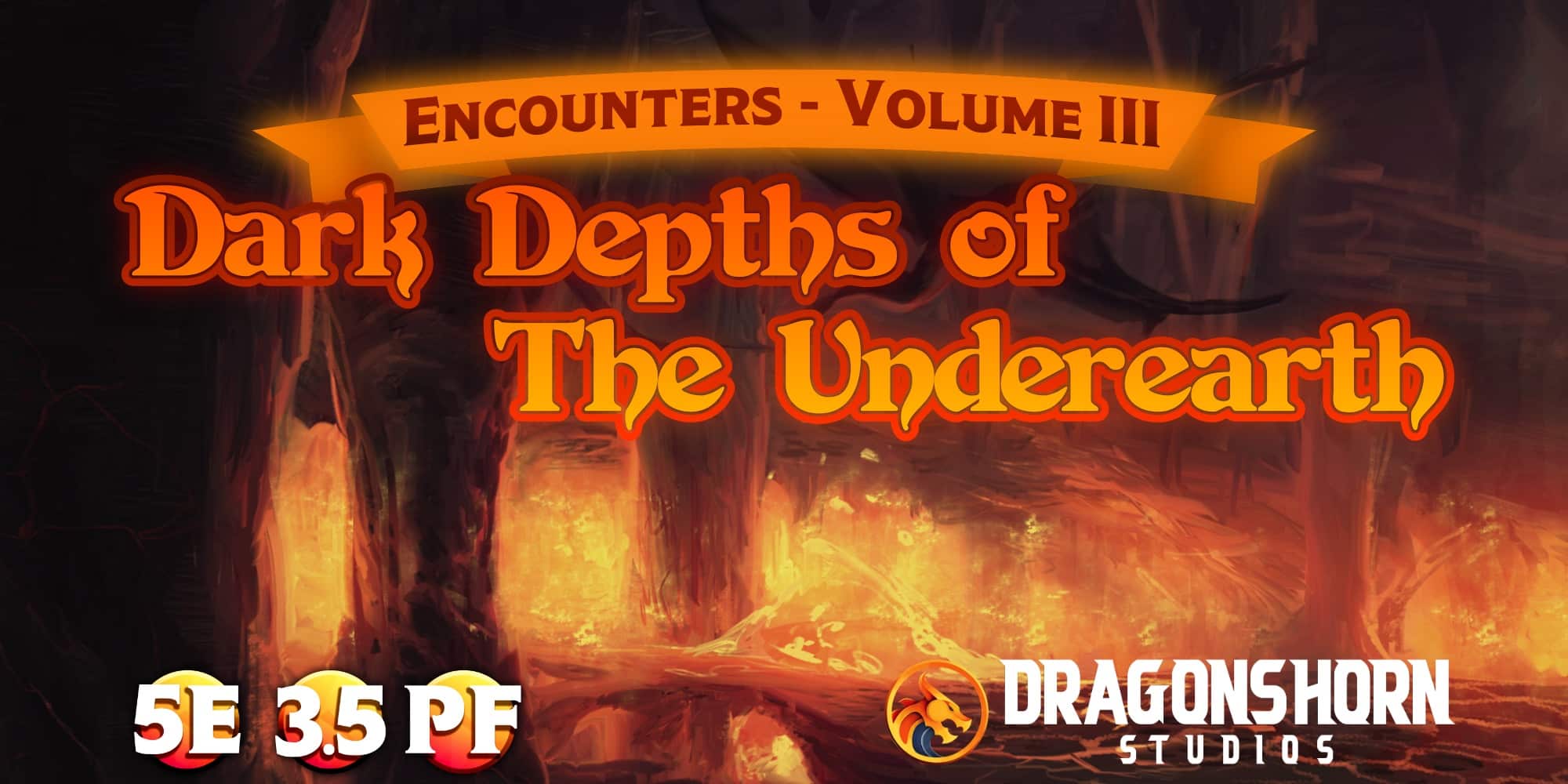 This encounter pack contains 10 carefully designed underground themed encounters, featuring monster tactics, leads, hooks and new monsters, items and spells to spice up your game. Easy to use and drop into any adventure–to fill up blanks on the map, make long journey more interesting or kickstart another adventure. The dark corridors of the Underearth await!
Maps and Encounters
Every encounter has its map prepared and imported into the Scenes world directory. You can use it right away, as monsters are already placed on the map - ready to be fought by your players. Each encounter has its full description added as a Journal Entry so you can read it directly inside Foundry, without the need to look anywhere else!

Looking For More?
Dragonshorn Studios publishes 5th edition and 3.5 edition compatible adventures, with a focus on providing a premium Foundry VTT experience.
Monsters, Items, and Spells
All monsters, items, and spells that appear during encounters have been prepared based on SRD data for the specific system - or created from scratch (6 new monsters, 4 new items) and licensed under OGL - are ready to use!
How to use
To import data into your world, navigate to the Compendium directory and open module Scenes compendium! Dragging and dropping a scene into the World scene directory will initialize an import - both for monsters and for a Journal entry that describes the encounter!
Where to purchase
You can buy Encounters Volume 3 directly on DTRPG for $7.95: Encounters - Volume III - Dark Depths of the Underearth 5E/3.5E - Foundry VTT - Dragonshorn Studios
You can also purchase a bundle with Foundry License and PDF for a reduced price ($9.95) here: Encounters - Volume III [BUNDLE] - Dragonshorn Studios
Content
10 encounters with tactics, hooks, and leads (EL for 5th edition)

The Cold Lava (APL5)
Salamander Trouble (APL1)
The Wine Problem (APL3)
Zombie Mushroom (APL8)
Crystal Collectors (APL3)
Living Shard (APL5)
Shrine of the Old Gods (APL6)
Enslaved Minds (APL7)
Broken Caravan (APL2)
Drow Outpost (APL4)

5 new maps (with variants)

One crystal cave map (two variants)
One underground lake map (two variants)
One underground lava lake map
One corridor map (two variants)
One mushroom grove map (two variants)

6 brand new monsters
4 new magic items
Issues
If you find any issues with the package or you did not get the license key from DTRPG, message Rughalt#4238 on the Foundry VTT Discord channel!
Module Screenshots