Bloody Blueprints & Macabre Maps is a collection of eight spooky and sinister maps that are absolutely perfect for Halloween games and horror adventures—each map in the set showcasing classically medieval and high-fantasy locations with gloriously ghoulish twists.
Better still, each 36x24 map is provided with multiple variants, and with walls and doors, lighting, and roof and overhead tile elements pre-configured for ease of use. Additionally, the maps benefit from optional titles and annotations that can be quickly and easily deployed for reference, as well as other handy extras.
And, in case you haven't seen it, Bloody Blueprints & Macabre Maps: Season II is now available, bringing with it another eight spooky scenes and plenty of useful extras!
Purchasing the Module
Purchase Bloody Blueprints & Macabre Maps. You can purchase Bloody Blueprints & Macabre Maps: Season I as a digital collection. It includes a download packet with the set's digital files, print-&-play materials, and Foundry VTT license key—all in one convenient package. Alternatively, you can buy season I and II together with the Bloody Blueprints & Macabre Maps: Complete Collection, which includes all of the same things but for both seasons.
Receive Your Content Key. When completing your order, you will receive a license key (or license keys* if you're purchasing Season I and Season II together) for Foundry VTT in your purchase note. Your license key should also be visible on the Downloads page that you will be taken to on DriveThruRPG immediately after your purchase is processed. It will also be emailed to you as part of your order confirmation and you can find it under My Orders after signing into DriveThruRPG and clicking on the Account tab. If you have any issues finding your key, please get in touch with us at info@deepdark-designs.co.uk and we'll happily introduce you to it and see if you two can't become fast friends.
Redeem Your Content Key. Log into https://foundryvtt.com/ and enter the license key you received in your purchase note into the Premium Content interface.
Activate Your Content. Install your shiny new module from the Module Browser in the Foundry VTT application.
Module Contents
Bloody Blueprints & Macabre Maps provides:
8 maps with variants for each, for a total of 19 locations
8 map titles, one per map
39 roof tiles
31 horror-themed map markers in two styles, for a total of 62 markers
Token artwork for an inauspicious 13 monsters that are usable with any system; with statblocks for 5th edition, Pathfinder First Edition, and Pathfinder Second Edition provided
56 brief journal entries, from preliminary materials to notes corresponding to each map
Keep in the Loop
Our team of DeepDark Designs are always cooking up new and exciting ways to enhance your game and we're planning to bring a lot more of our content—current and future—to Foundry VTT. It's a great idea to follow us in order to keep up to date on the latest news and announcements. You can do so at each of the following places:
You can also reach me directly via email at daniel@deepdark-designs.co.uk or on Discord at AenyMehrunes#6198.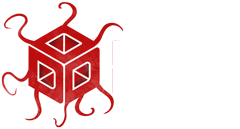 Gallery