Legend Keeper Integration
Package Description
Legend Keeper Integration
This module is not affiliated with LegendKeeper, and is an unofficial integration to import LegendKeeper exports into FoundryVTT as journal entries.
LegendKeeper is a copyright of Algorific LLC.
Installation
Usage
BACKUP YOUR WORLD

Before attempting to use this module, backup your world in Foundry to a safe location.
1. Export your LegendKeeper wiki
Log in to your LegendKeeper wiki
Click your profile picture in the bottom left corner.
Go to Project > Settings
Click the Export wiki button
Change the Export Type to JSON
Keep an eye on your email and download the resulting zip file with your wiki's JSON data.
2. Prepare your LK export directory

After downloading your LegendKeeper JSON export zip, extract it. Place the resulting folder somewhere that Foundry can access it, such as <User Data>/worlds/myworld/legendkeeper.
3. Let the module know where your directory was placed

In Foundry's right sidebar, Click the gear icon to change to the settings tab and then go to Configure Settings. In the settings window, go to the Module Settings tab. Find the Legend Keeper Integration settings group and choose the path that correlates with where you placed your wiki export in step 2 earlier. You can use the file button to the right of the path text field to choose the directory using Foundry's file browser.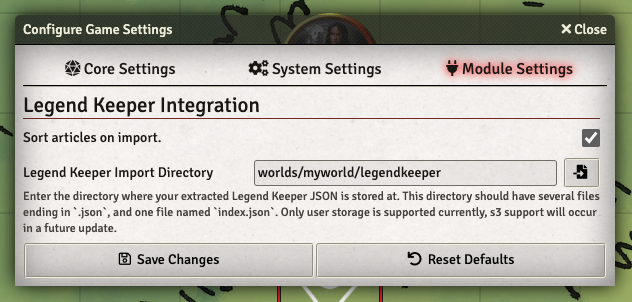 4. Import your LegendKeeper wiki

Reload your world and go to the Journal tab of Foundry's right sidebar. Use the Import from Legend Keeper button at the bottom of the right sidebar to import your LegendKeeper journal entries.
5. Do not update Legend Keeper entries in Foundry itself

Journal entries created by LegendKeeper have a special flag placed on them that will allow them to be replaced whenever you perform a new import of your exported wiki. LegendKeeper journal entries have a special LK icon to the left of their name or folder name so that you know which ones were created by LegendKeeper. You can make changes to these journal entries, but any changes made will be lost as soon as you do a new import.
A note on hierarchy

LegendKeeper supports any amount of folder depth you want, but Foundry tops out at 3 levels of nesting. As a result of this, folders deeper than 3 levels deep will be created as a level 3 directory and will be prefixed with hyphens to show their effective depth.

LegendKeeper also supports treating articles as folders, which Foundry does not do. To account for this, every folder created by LegendKeeper will also have a [ROOT ARTICLE]--------------- entry that houses its text.
---
Author: Asacolips
Project Source: Project URL
Latest Version: Version 1.1.0
Last Updated 4 months, 2 weeks ago
---
Tagged Categories
---
Available Versions
Version beta-1.2.x

Version 1.1.0