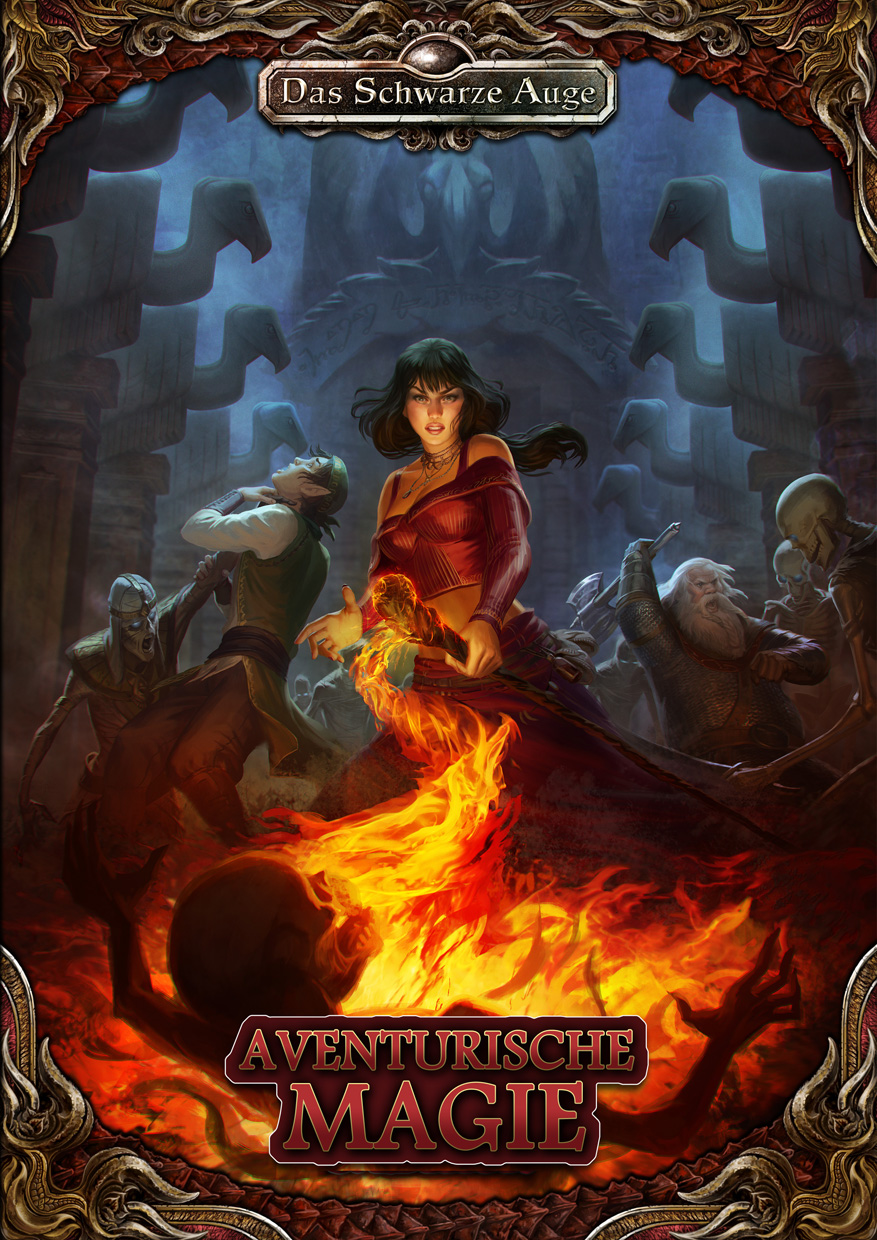 German and English, English description below
Aventurische Magie ist ein Regelerweiterungsband für DSA5, der sich den aventurischen Spielarten der Zauberei widmet. Jede beschriebene magische Tradition wird ausführlich vorgestellt, mitsamt ihren Ritualen, Zaubersprüchen und Besonderheiten.

Du erfährst mehr über die an den Magierakademien unterrichteten Zauberstile, die einem Magier spezielle Fähigkeiten verleihen und die einen Zugang zu weiterführenden Sonderfertigkeiten darstellen.
Es erwartet dich zudem eine umfangreiche Sammlung an Zauberformeln der enthaltenen Traditionen, sowie magische Sonderfertigkeiten, um Zaubersprüchen zusätzliche Macht zu verleihen oder ihre Wirkungsweise zu verändern.

Außerdem stellen wir dir Zaubervarianten vor, die ein Zauberer erst meistern kann, wenn er genug Erfahrung mit der Grundversion des Zaubers gesammelt hat. Neben Fokusregeln erwarten dich auch neue Professionen. Von den gelehrten Gildenmagiern und ihren Schulen, über die Zauberbarden mit ihren magischen Liedern, bis hin zu den tulamidischen Sharisadim und ihrer Tanzmagie erwarten dich mehr als zwei Dutzend magische Professionen. Um sofort ins Abenteuer zu starten, kannst du dich auch für einen der acht spielfertigen Archetypen entscheiden.
Dieses Modul enthält:
180+ Spezielafertigkeiten
150+ Zauber und Rituale
70+ Professionen und Kulturen
15+ Vor- und Nachteile
Benötigt das DSA 5 Core Modul für Foundry: Hier erhätlich
Kaufe Aventurische Magie auf Ulisses Spiele
English Version
Store link: https://www.ulissesf-shop.com/detail/index/sArticle/2198
---
Magic of Aventuria is a rules expansion module for TDE5 dedicated to the Aventurian varieties of magic. Each magical tradition described is presented in detail, along with its rituals, spells and peculiarities.
You will learn more about the spell styles taught at the mage academies, which give a mage special abilities and provide access to more advanced special skills. You will also find an extensive collection of spell formulas of the included traditions, as well as special magical skills to give spells additional power or change the way they work.
From the learned guild mages and their schools, to the spell bards with their magical songs, to the Tulamid Sharisadim and their dance magic, more than two dozen magical professions await you. To start your adventure right away, you can also choose one of the eight ready-to-play archetypes.
This module contains:
180+ special skills
150+ spells and rituals
70+ professions and cultures
15+ advantages and disadvantages
Requires the TDE5 Core Module for Foundry, available at https://www.ulissesf-shop.com/virtual-tabletops/2147/the-dark-eye-core-rules-for-foundry-vtt