The smoke rises from the abandoned mine again. A group of orcs started digging, trying to get inside the ruins, driven by the power that is beyond their understanding. A young scholar is looking for a long-lost truth. And deep down, an ancient evil is lurking, waiting for a fool to release it once more…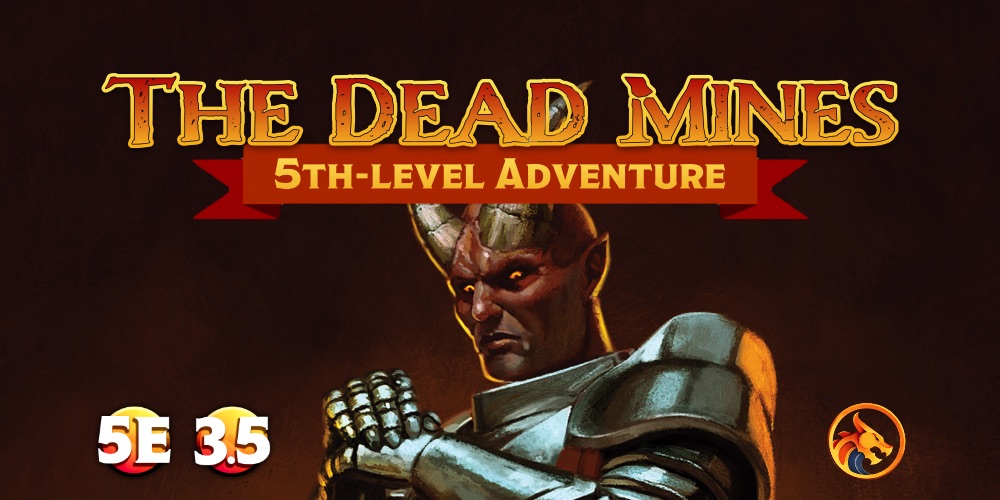 The Dead Mines is a two-session adventure for a party of 5th level characters designed for the 5th and 3.5 edition of the world's most popular role-playing game. Featuring a closed story that is designed so you can drop into any campaign or play it standalone, new monsters and items, this adventure is sure to put your players on their toes. Will you be brave enough to prevent the return of a Demon Lord?

Looking For More?
Dragonshorn Studios publishes 5th edition and 3.5 edition compatible adventures, with a focus on providing a premium Foundry VTT experience.
Game Ready!
This module is fully prepared to be imported into any running game and used right away. Scenes are filled with monsters and NPCs, journal entries are linked together and handouts are ready to be presented!
Easy to Install
To import data into your world, use the Import Adventure button on the welcome screen! The adventure will be imported into the currently running game, sorted into correct folders, and ready to use!
Where to purchase
You can buy The Dead Mines directly on Dragonshorn Store for $9.95 ($12.95 with a bundled PDF): https://store.dragonshorn.com/l/bahWF
Content
An epic 4 part story, worth 2-3 sessions of gameplay

5 new maps (with walls, lights - and all monsters already placed in correct positions)!

Fantastic music by Tabletop Music Bazaar, with a custom theme song for the adventure!

6 new monsters, with statblocks and token art!

2 new magic items
Issues
If you find any issues with the package or you did not get the license key from Dragonshorn Store/DTRPG, message Rughalt#4238 on the Foundry VTT Discord channel!
Module Screenshots