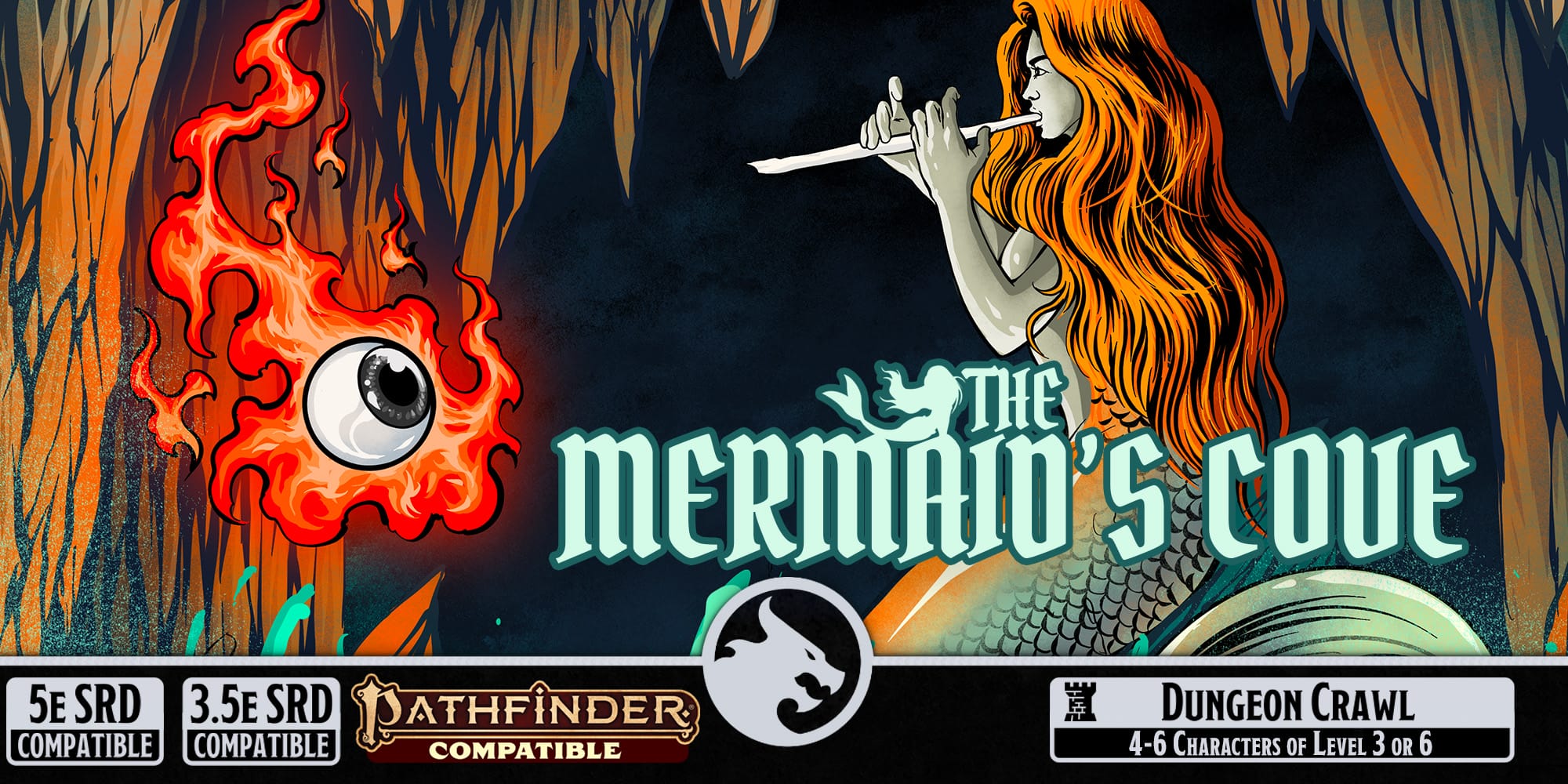 Hidden between the cliffs and sea stacks located near the small seaside village of Saltbarrel, the Mermaid's Cove served as a pirate hideout for many years. The tides of fate seemed to have turned, however, as pirates are nowhere to be seen… and rumors about the even greater evil lurking in the cove are starting to spread.
The Mermaid's Cove is a one-shot dungeon crawl for parties at level 3 (or 6) for the 5th and 3rd editions and Pathfinder Second Edition! Featuring new monsters and a multitude of obstacles for players to overcome, it can be easily dropped in into any adventure as a point of interest.
About the Mermaid's Cove
Undead pirate-themed dungeon crawl, where adventurers need to find an abandoned pirate hideout and find a secret hidden deep inside
A place where adventurers can find dark secrets of ancient sea deity... and stop her followers in their tracks!
Setting agnostic - the Mermaid's Cove  can be located in any fantasy world!
Contents

Looking For More?
Dragonshorn Studios publishes 5th edition and 3.5 edition compatible adventures, with a focus on providing a premium Foundry VTT experience.
A dungeon crawl ready to be dropped in any wilderness or pirate-themed adventure, with several leads
2 new maps (with walls, lights - and all monsters already placed in correct positions in VTT editions)
6 new monsters, with custom tokens
2 new, fully illustrated magic items
Where to purchase
You can buy Dungeon Crawl - The Mermaid's Cove directly on Dragonshorn Store for $7.95 ($9.95 with a bundled PDF): https://store.dragonshorn.com/l/mermaids-cove
Issues
If you find any issues with the package or you did not get the license key from Dragonshorn Store/DTRPG, message Rughalt#4238 on the Foundry VTT Discord channel!
Module Screenshots