Package Description
# whisper-dialog
Sends dialog to specificed connected user.
# Installation
1. Inside Foundry's Configuration and Setup screen, go to **Add-on Modules**
2. Click "Install Module"
3. In the Manifest URL field paste: `https://github.com/Kekilla0/whisper-dialog/raw/master/module.json`
# Usage
Once activated in the module menu, you may use the Macro syntax to send messages to other players via a dialog!
WhisperDialog.newDialog(userId,contentHTML,title,skipDialogBoolean);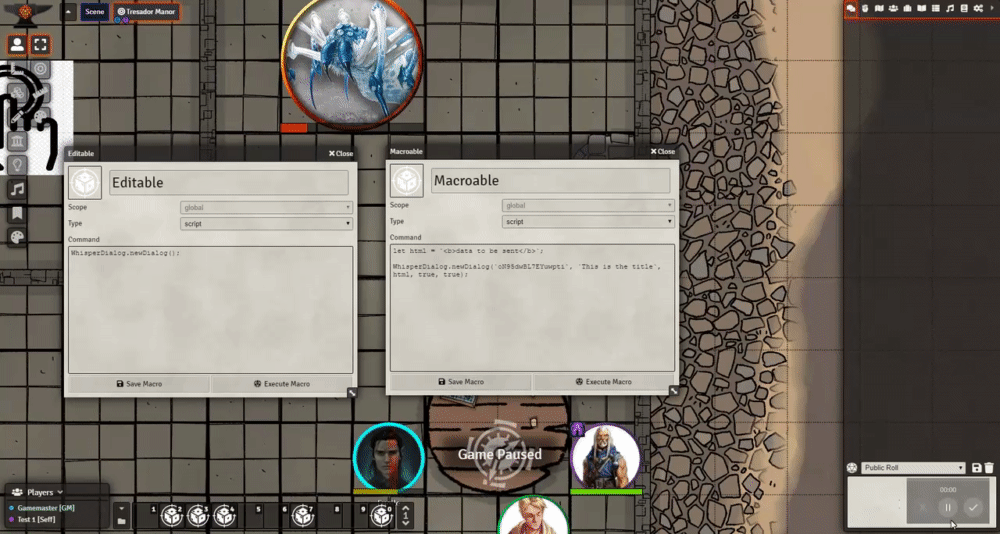 # Support
For questions, feature requests, or bug reports, feel free to contact me on the Foundry Discord (Kekilla#7036)
---
Author: kekilla
Project Source: Project URL
Latest Version: Version 0.1.6
Last Updated 4 months, 1 week ago
---
Tagged Categories
---
Available Versions